Vibrantly pulsating, truly capturing
  the essence of the artist's passion.
This unit has been developed as a line preamplifier that combines the rich and mature sound of the G-70 with the expressive power of the flagship model G-1000. Through careful circuit design and countless listening tests, we have achieved top-class specifications and refined expressive capabilities.
It is neither a downgrade of the G-1000 nor an upgrade of the G-70, but has the expressive power appropriate for this class.

The newly developed 50-point ATT unit uses MELF-type resistors that have been tested through listening sessions. By mounting them on a high-quality rotary switch and housing them in a copper case, it achieves outstanding information capacity and silence.

As a transparent presence that manipulates music at the center of the audio system, it brings out the passion of the performance with its vitality and expressiveness while faithfully and honestly reproducing the sound source.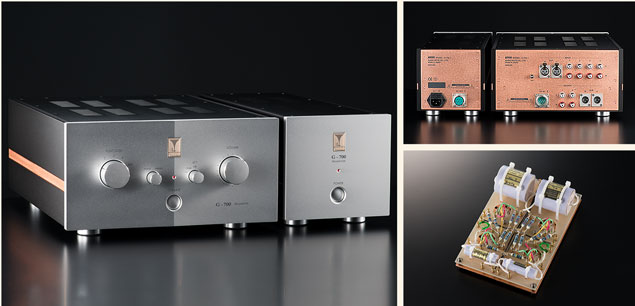 Features
Equipped with a 50-point attenuator employing a newly developed high-quality MELF-type resistor.
Power supply unit and amplification unit are housed in separate enclosures to minimize the effects of vibration and magnetic flux leakage.
Decoupling capacitors are placed near the amplification module to minimize signal loops.
Large shunt-type heater power circuit redesigned to accommodate increased current.
A variety of in-house components including SSWs and pure silver foil capacitors are used, and each component is carefully manufactured by hand-wiring.
Pure copper chassis for open sound.
Front panel with the same curved wires as the GE-7.
Audio Note Original Attenuator Unit
Equipped with a 50-point attenuator using newly developed high-quality MELF type resistors.
The most frequently used function of a preamplifier is volume control. In developing a new attenuator suitable for the middle class, we conducted many trial listening tests.
As a result, MELF-type resistor was adopted. By mounting it on a high-quality rotary switch and enclosing it in a copper case, we were able to achieve an outstanding level of information and quietness. It is placed in the center of the chassis to match the symmetrical amplification section.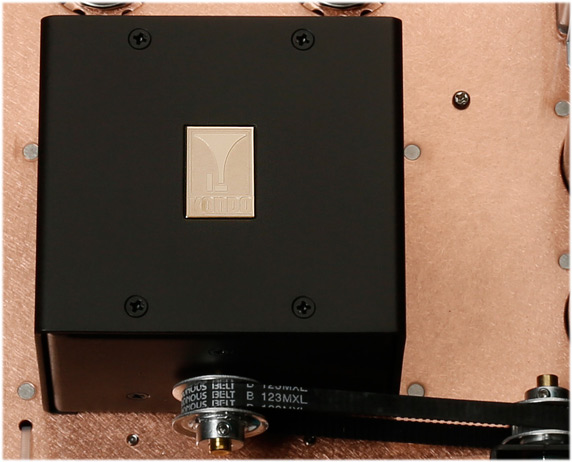 Line amplifier unit
Decoupling capacitors are independently placed near the module to minimize the signal loop.
It is designed with consideration for connection with transistor amplifiers, with an output impedance of 400Ω and a cutoff frequency of 18.5Hz (with a 20k Ω load).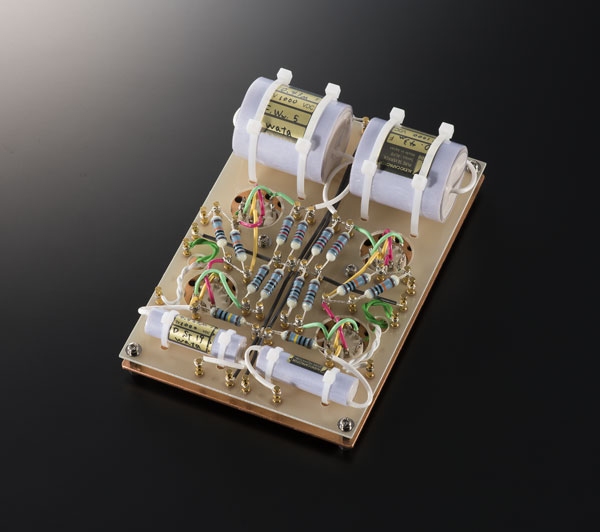 Power supply, the shunt heater circuit
By housing the power transformer in a separate chassis and making it independent of the amplification section, the influence of vibration and magnetic leakage is eliminated to the maximum extent. Additionally, while having a separate power supply section, it is designed to fit into a single audio rack.
The newly designed transformer and choke undergo appropriate damping treatment through repeated listening tests. The ripple filter and decoupling capacitors are clearly separated in design and implementation to create a powerful power supply section. The decoupling is composed of three types of capacitors, contributing to a well-balanced sound with each characteristic suppressed. The newly developed shunt-type heater power circuit eliminates ripples through a large capacitor group, contributing to a stable and spacious sound reproduction.
Ultra-high-quality parts
ATT unit, copper main chassis, pure silver foil capacitors, pure silver lead resistors, SSW wiring material, pure silver shielded wire, silver-palladium plated RCA jacks, zirconia vacuum tube sockets. In addition, high-quality original components such as custom-made electrolytic capacitors, power transformers, and chokes are used. Carefully selected components are effectively placed throughout the unit.
Power Cable
ACz-AVOCADO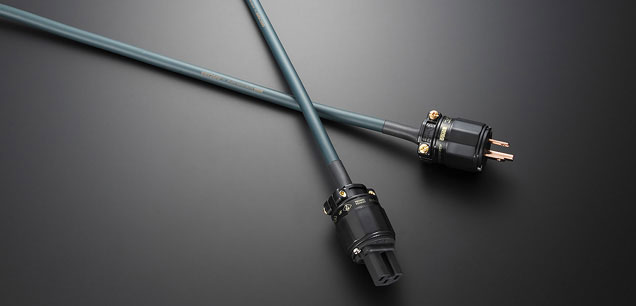 Specifications
Product
Stereo line preamplifier
Model
G-700 i
Frequency Response
8Hz ~ 280kHz (+0dB, -3dB / with 100kΩ load, Unbalanced)
Input / Impedance
RCA 4pairs, XLR 1pair, Unbalanced / 50kΩ
Output
RCA x2, XLR x1 (unbalanced, over 20 kΩ load)
Gain
25dB
Noise
less than 0.15mV
Vacuum Tubes
6072 x4, 6CA4 x1
Power consumption
35W
Dimensions
Main unit 302mm(W) 160mm(H) 412mm(D)
Power supply unit 160mm(W) 160mm(H) 412mm(D)
(excluding protrusions)
Weight
Main unit 14.5kg
Power supply unit 12kg