When you immerse yourself in audio, don't you feel extremely happy listening to the beautiful sounds on "single-layer SCADs?" A single-layer disc is a dedicated disc which only has a high-quality 2-channel SACD layer without a standard CD layer. So, you need a SACD player, but you will get the irreplaceable sensation when you play the disc on a high-quality SACD player. Even compared with a standard hybrid type having the dual-structure of a standard CD layer and an SACD layer, it secures the reflectance several times higher, and it has been enthusiastically supported by music lovers and audio fans seeking for extremely beautiful sounds. I have picked out some superb albums with substantial contents, which lead you to the world of high-quality sounds, from such single-layer SACDs.
#154 Exquisite Duo Album Filled with Romantic Aroma and Adventurous Mind
A pianist, Chick Corea, and a vibraphonist, Gary Burton, recorded a superb duo album for ECM label in the autumn of 1972, and was rereleased on "single-layer SACD." A single-layer seems perfect for ECM, which has been placing importance on the beautiful timbre, and the interplay of rich emotions between the two musicians creates refreshing atmosphere. I would say that it is, after all, the single layer contributing to the softness of the overall timbre even it is acoustically solid. You can hear the thrilling interplay of the two instruments in tracks such as <Senor Mouse> and <Falling Grace>. In <Crystal Silence>, a gem-like title number, even the atmosphere created by the interplay of sentiment between the two sharing the same feelings comes through loud and clear. We can feel the emotion hidden in the players' minds straightforwardly as well as the transparency of the sound—the album touches our heart once again.
Manfred Eicher, a producer at ECM, is known for not letting outsiders to touch the sound source, but in this album Christoph Stickel, the engineer he trusts, is transferring the analog master to DSD. You can listen to the balanced and beautiful expression of space with the realistic feeling as if you are in the recording studio. I truly want to enjoy their performance filled with the romantic aroma and the adventurous mind once again with the best sound quality.
#155 Great Album by Talented Italian Jazz Singer
An Italian vocalist, Claudia Zannon, is a classic-style vocalist who seems to be influenced by Ella Fitzgerald and Anita O'Day. While working at an advertising agency in Milan, she learned vocal music, received some awards, spent time at the bottom of the ladder for approximately 20 years, and finally made a debut with "New Girl in Town" in September, 2020. This is her second album recorded in December of the same year, and she has made a significantly favorable impression by mainly singing ballades and medium-tempo pieces straightforwardly with jazzy sensation.
They are moody and gorgeous sounds accompanied by the strings. If you listen to the romantic melody of <I Fall in Love Too Easily> starting with the verse, you can tell that she is the talented singer who has the lofty power of expression. <I'm Gonna Laugh You Right out of My Life> also sung by Nat King Cole and others is breathtaking. Expressively singing those numbers which have rarely sung before makes me happy. The title track is a bluesy song written by Buddy Johnson. Her singing voice stands out even more together with the soft timbre of strings on a single-layer SACD.
#156 Intoxicated with Graceful Timbre—Mozart Concertos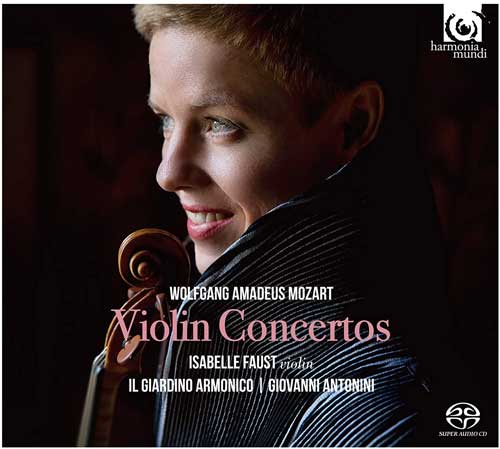 Born in Germany and internationally active soloist, Isabelle Faust is currently one of the most popular violinists. Her repertoires are quite wide but her charm of singing elegantly and gracefully perfectly matches Mozart music.
The four tracks from No. 2 to No 5 were written in 1775 when Mozart was 19 years old, which showed his precociousness and was fully predicating his glorious success. Together with the beautiful sounds generated by the prized Stradivarius named "Sleeping Beauty," the performance has been held in various places as a period instruments' ensemble. Il Giardino Armonico is adding even more elegant taste. The disc containing the outstanding performance and recording, which won "Record of the Year" of Gramophone Award in 2017 and was selected as the best recording by The New York Times later in the same year, was remastered again in 2019 and released in "the single-layer SACD format."