Still stuck at home, I've often listen to classical music from the morning to the afternoon, and mostly jazz or pop music from the evening to the night these days. Then, I've decided to focus on listening to the music of Jean Sibelius, the brilliant Finnish composer, in my classical music hours. I have several sets of his albums mostly symphonies. By carefully listening to Sibelius continuously, I've been able to recognize the unique nature of his music, and at the same time, immerse myself in the depth of his works.
#151 Indulging in Cool Lyricism of Scandinavia by Listening to Sibelius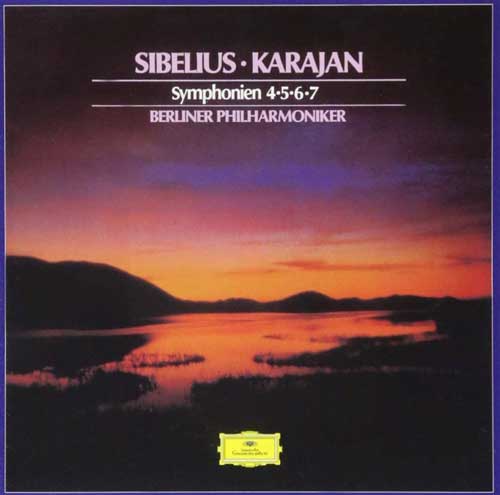 Listing to Sibelius on a hot summer day, I feel it is not bad to immerse myself in the cool lyricism of Northern Europe, but want to stress that his symphonies have the unapproachable austerity and is not something you can casually listen to. That being said, a feeling of invigoration is expressed in the unique world of Sibelius. Having those feelings I am listening to seven symphonies conducted by various conductors every day. Starting with Scandinavian conductors such as Paavo Berglund and Paavo Järvi with Orchestra de Paris, then to Leonard Bernstein, Colin Davis, and Simon Rattle—well-known by their masterpieces—and sure enough, Karajan at the end. Karajan understood and explored Sibelius well. It is said that Sibelius mentioned in his later years that Karajan was the one who understood his music the most.
No.2 is famous, but I'd rather recommend his late works, if you want to immerse yourself in the deep Sibelius' world. Especially No.6, raising the inner face to much higher dimension, and No.7, sinking down indescribably, are not the kind of music you can enjoy halfheartedly; however, if you want to sincerely face his world, it will surely touch your heart emotively. Krajan's conducting is marvelous bringing out the beautiful lyrics by deeply getting into the spirit of Sibelius. It was recorded in the middle of 1960s, and Karajan recorded a lot more after this for EMI. In EMI's recording you can enjoy more matured timbre, but the older recording where you can feel the spirit of dignity is too beautiful for words. It is a single-layer SACD~SHM version. The digitally-mastered master in 1917 is used, and the quality of sound has been improved dramatically. You'll be fully satisfied with the ethereal atmosphere coming out of Sibelius' music.
#152 Fascinating "Cool" and Husky Voice—June Christy's Breakthrough Album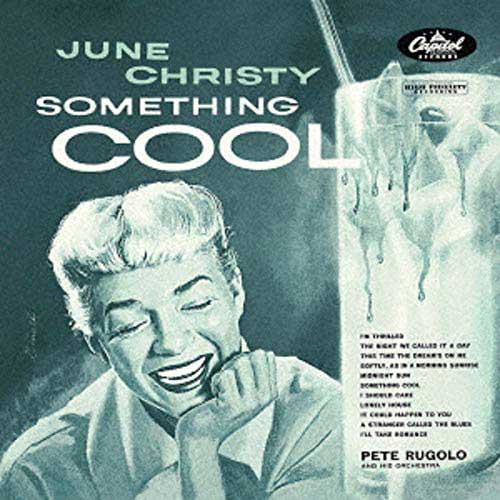 "… I'd like to order something cool, (something cool), It's so warm here in town, And the heat gets me down …" is the beginning of <Something Cool>'s lyrics. A woman may be in a café in a big city or may be in a bar in some small town. A woman siting somewhere starts talking about memories of her past love. <Something Cool> brought June Christy—a singer representing the world of white jazz vocalists after becoming independent from Stan Kenton's band—recognition as a solo singer. Billy Barnes, who was also active as an actor in the West Coast, wrote the song. It was originally made for a show, but since June happened to listened to the song, loved it and offered him earnestly that she would like to sing, it was recorded. Her "cool" and husky voice is perfectly matching with this song.
It was recorded in 1953 when she was 28, and her hidden allure in her pristine expression is phenomenal. Just looking at the album cover art gives me a sense of coolness in sweltering summer heat. Stereo records were still not available in 1953, and Capital produced the stereo disc of the same song, <Something Cool>, sung by June Christy in 1960. She sang accompanied by Pete Rugolo & His Orchestra as before, and the design of the album jacket is almost the same; however, June is opening her eyes and smiling at us on the stereo disc's colored cover, while the monaural disc design is generally monotone. Since a red cherry was added in a glass and the position of a straw was also changed, we can easily distinguish the two. <Something Cool>'s mono and stereo discs are produced seven years apart. I personally feel the monaural is one level superior in terms of her mellow voice and extensive expression, but it is certainly interesting to compare listening to both because we can somewhat feel the yearly growth of June.
#153 "Summer" Landscape Presented by Genius, Eumir Deodato
Eumir Deodato is an arranger and a keyboard player from Brazil. He is known as one of the performer representing the world of fusion, and his debut album is this CTI disc (the original title is "Prelude") released in 1972. The most famous piece in the album is the title number where Richard Strauss' masterpiece is performed like pop music joyfully arranged the version used as the theme music for Stanley Kubrick's film, "2001: A Space Odyssey." However; it does not make you feel like summer. I think the reason you feel "summer" is that Deodato's original work, <Spirit of Summer>, is included as the second track. The melody line is as soft and tender as gentle breeze.
The timbre of a flute and an acoustic guitar matches well with the melody. Another track, <Prelude to The Afternoon of A Faun>, is one of the representative works of a French Impressionist composer, Claude Debussy. The languorous scene of the track, "a faun is indulging in sensual dreamy thought in the afternoon of a summer day" is expressed well mainly by a flute and a keyboard. We can say that it is Deodato-like idea to have awakening trumpet solo perform in the middle. The producer is of course Creed Taylor, and the engineer is Rudy Van Gelder. The newly remastered pieces by them in 2009 are on this CD.