We are expecting another hot summer this year. There are certain albums I feel like listening to every summer. I have picked out albums arbitrarily that make us feel summer—some make us feel cool and others are expressing a languid summer. That being said, I believe I have surely selected the attractive albums from the audio point of view.
#148 My Thoughts Go to Graceful Barge Party When Listening to Performances by Period Instruments,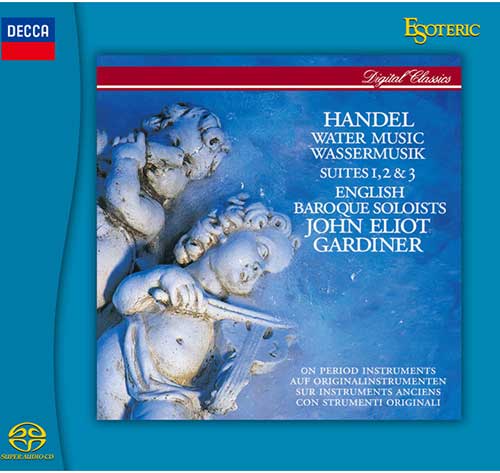 "Water Music" George Frideric Handel wrote for a grand royal jaunt up the River Thames is the masterpiece representing his orchestral music with wind and string instruments. Its title and the gorgeous timbre of wind instruments naturally make us feel the summer. The luxurious barge party was held by George I, King of Great Britain and Ireland. It's fun to think back to those graceful good old days. It is said to be written in 1710s but more pieces have been added later, and it is now generally performed as three suites. Since the members of the orchestra are also on board, it is filled with the open-air atmosphere benefiting from the timbre of horns and trumpets. Elegant "minuet" and "Air" tinged with sorrow are performed in the middle, which makes us feel the steady flow.
Certainly, there have been many fantastic performances, and "English Baroque Soloists" conducted by John Eliot Gardiner and recorded for Philips in 1991 has just been released as a newly-mastered SACD/CD hybrid disc. It is a so called performance by period instruments, which is carried out after studying the instruments and the renditions in those days. I feel that the lively rhythm and the tunes of each instrument are brought out splendidly.
#149 Album Overflown with Creativity far beyond Horizon of"with Strings"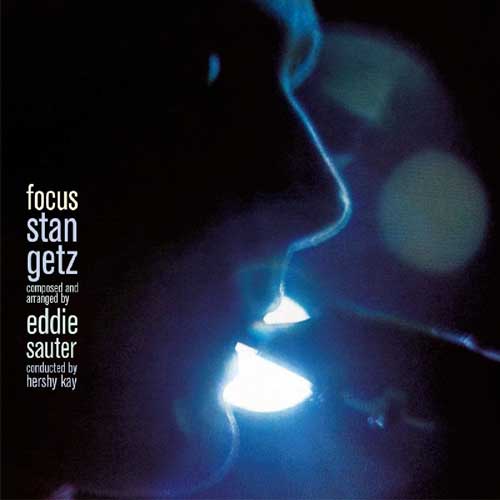 Stan Getz was said to be representing "cool tenor" in the golden days of modern jazz. Getz selected only original pieces written by Eddie Sauter, the genius arranger, and made the thrilling collaboration with the string and woodwind ensembles written by Sauter. Sorter's arrangement is not just an accompaniment. Coupled with Getz's tenor vividly, it creates thrilling sound tapestries. As if inspired by such ensembles, Getz responds with his solos overflowed with imagination. It is a creative album far beyond the horizon of "with Strings."
The tracks such as <Her> written by imagining a beautiful woman and dreamy <I Remember When> leave strong impressions on us; however, the reason we feel the image of "summer" on this album may be because <Summer Afternoon> expressing the languid summery atmosphere is included in this album. About half a year after he recorded this album, "Jazz Samba" Getz recorded with Charlie Byrd, a guitarist, made a global hit. Furthermore, "Getz/Gilberto," which contains <The Girl from Ipanema>, also made a big hit, and he became a darling of the bossa nova world. His engagement with bossa nova was a turning point in his life. It is quite impressive that this type of serious work was produced in the summer of '61, which is regarded as right before the boom. The producer is Creed Taylor before establishing CTI Label, and the recording capturing the beautiful blending of the orchestra led by string instruments and Getz's tenor is superb.
#150 Snappy Album—Singing Accompanied by Ukulele
Janet Seidel, the singer born in Australia and passed away four years ago—in August,2017—at the age of 62, who was missed by everyone, is singing heartwarmingly accompanied by ukulele. "Moon of Manakoora," was recorded in 2004, which is especially popular among her albums—her vocal performances are frank and friendly without any exaggerations and with honest expressions.
Ukulele is the standard instrument in Hawaiian music, but is rarely used in the world of jazz. Chuck Morgan, who usually plays guitar, is playing ukulele. The intimate timbre matches perfectly with Janet's lovely voice. With smartish swings, the very joyful atmosphere is created. Centering on the nostalgic standard numbers, some Latin numbers are also included—the brilliant selection. In <All I Do is Dream of You> Janet's voice and ukulele show a magnificent chase—the height of sophisticated swings. From the viewpoint of audio, needless to mention Janet's voice, but how warmly ukulele's soft but robust and persistent timbre can be expressed will be the key point.