I believe that I listened to the melody of Caccini's Ave Maria for the first time in the autumn of 1995. It is such a beautiful aria and piece that I am not exaggerating if I say it seems so surreal. At the same time, I wondered why such a beautiful melody had not kept singing till now. I kept questioning why the piece had been pushed to the edge of the music history. This is such a mysterious story of Caccini's Ave Maria.
#13 Outstanding Singing Performance by Inessa Galante Just Right for Melody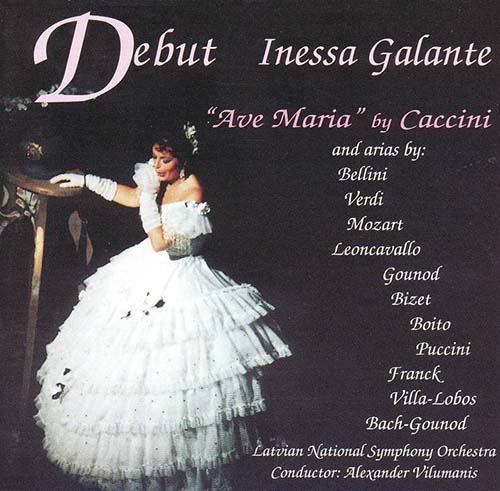 One day, "Caccini's Ave Maria" suddenly caught my ears. It's in the track 8 of the album "Debut" sung by a classic singer called Inessa Galante. I just happened to stop by a CD shop in Sukiyabashi, and I heard this beautiful melody and voice, which I don't think I am exaggerating if I call this "celestial music." Speaking of Ave Maria, Schubert's or Gounod's Ave Maria is the one I've known since my childhood through my music classes at school, however, I know nothing about "Caccini's Ave Maria." I remembered that I was so touched by such beautiful "Ave Maria" and asked the shop a big favor to sell the album before it was even placed on sale. Inessa Galante is a soprano singer born in Latvia. Although she has been singing some title roles of operas, she is not a famous great singer. However, her crisp voice and soft expression were suitable for this melody, and it fitted her so well that it seemed as if it was made for her.
I also became interested in Caccini, the composer, however, I was not able to find almost anything about him other than he is an Italian composer in early stage of baroque music from 16th to 17th century, since we did not have the Internet back then. His real name is Giulio Caccini.
After several years, the mystery became clear. The piece was not composed by Caccini but was composed by Vladimir Vavilov, a composer in the Soviet Union at around 1970. Vavilov deliberately made his name anonymous and often composed pieces with other people's name attached to the title. He did this because if he put his name on, it would not sell well, and he felt so strongly about putting his music out into the world that he put those well-known composers' names on his own works. This story is not easy to believe, either. I assume that he might have restrictions for his creative activities and could not insist his own right freely in the socialist country back then. If that was true, Vavilov, who wished to bring out his works to the world even by using other Western composers' names, had a strong will and soaring spirit. It tells us convincingly why the melody of "Caccini's Ave Maria" he composed had hardly came out to the world, and had not kept singing until '90s. In Inessa Galante's album, G. Cassini's name still remains as the composer. The album contains many other excellent operas by Verdi, Puccini, and Bellini, and others, so you can also enjoy it as "famous arias." "DEBUT" is launched by a minor label called Campion in Austria. Although the album is no longer in production, I think you can get the used one through the Internet.
#14 True to Its Title! Piece Truly with All His Heart and Soul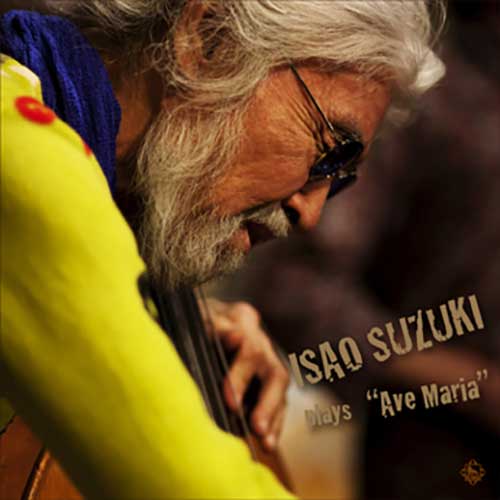 Over 80 years old, Isao Suzuki, a veteran bassist, is still on the leading edge. This is the album released in 2015 by the group of Isao Suzuki. As the title suggested, Caccini's and Schubert's Ave Maria performances, which they put their whole soul into, were included. Especially, Caccini was impressive. Who could imagine this piece could be played in the form of base solo? With the beautiful melody, Suzuki's base is very emotional. I can feel his strong enthusiasm towards the music as if it were not already enough. The super-performance which does not tarnish the title "Throwing my heart and soul." I bet you can spend blissful five minutes. The leader's aggressive musical stance was also expressed in every other performance. The recording truly capturing the vivid base tone of Suzuki and his intensive feeling of expression was fabulous.
#15 "Ave Maria" Calmly Played on Tenor Sax
The piece performed in the form of regular quartette by Teturo Kawashima, the greatest modern jazz tenor, in 2014. As far as I know, Kawashima is the first playing "Caccini's Ave Maria" in the field of jazz. He played this piece on flute in his album, "Prayer," in 2012. That was not bad, but I like this live album, in which he played tenor sax, better. Conversely, Tetsuro Kawashima, whose virtue is to play impromptu passionately, playing rather calmly conveys his deep feeling and his artistic background. This is also deserved to be called a piece "with his heart and soul."