Many "Stay Home" plans are featured on music magazines and audio magazines, which I am engaged with. They are something like "Stay at Home—Audio Gear and Techniques" or "Devote Your Time to Home Audio System at Times like This." Surely those sounded good, but at times like this, I just listened to Ruben Blades' album, and suddenly the atmosphere around me changed, which cheered me up. Since I realized it was not bad to indulge in Cuban music at times like this, I would like to introduce some of the albums I enjoyed.
#106 Happiest Encounter of Afro-Cuban Music and Jazz
"Salsa," having its roots in Cuban music, spread rapidly from '70s, and became the byword for New York Latin music. The enthusiastic performance in 2014 by the Lincoln Center Jazz Orchestra (LCJO) with the maestro of Salsa, Ruben Blades, as a guest was released as an album in 2018. Carlos Henriquez, the bassist, arranged the music. It was held at Frederick Rose Hall in Jazz at Lincoln Center. Born in Panama and immigrated to America, Ruben Blades is not only successful in the world of Salsa but also active as an actor. Involved in political activities in his hometown, he impresses us as a dignified man with his voice. It is the perfect collaboration with LCJO, the orchestra with only talented members.
Staring with the first number, "Ban Ban Quere," Wynton's trumpet solo bursts away! In addition to Ruben's originals such as <Ban Ban Quere> and <Pedro Navaja>, the great jazz standard numbers such as <Too Close for Comfort> and <I Can't Give You Anything But Love> had a Latin arrangement. If you are an old fan, you may remember Dizzy Gillespie once loved to play Afro-Cuban jazz. From those days, it's been over 70 years. You can find the happiest encounter of jazz and Afro-Cuban music, excitement, and enthusiasm here in this album.
#107 Cuban Daily Life Expressed by Lopez Nussa
Harold Lopez Nussa is from Cuba, and is one of the pianists active in the front lines in today's Jazz. Born in Havana in 1983 and distinguished himself in his teens, he performed on the main stage of "Tokyo JAZZ" in 2016, and fascinated a lot of audience. Aside from his innate rhythmic sense, he has magnificent techniques, but as for this album, I simply enjoy his straightforward expression of his feeling for Cuban music of today, which is in his dairy life.
There are a numerous number of his rhythmic and attractive original pieces. As if they are placed between the numbers which give us the feeling of modern age, relatively rare tunes such as Cuban great composer, Ernesto Lecuona's <fanza de los namigos> and <Y la Negra Bailaba> are performed. I feel they are deeply rooted in the everyday life of Cubans. <CONTIGO EN LA DISTANCIA>, Cesar Portillo de Laluz's masterpiece, evokes a feeling of romantic nostalgia. The trio formation, the exiting combination of the three including his younger brother, Ruy Adrian Lopez Nussa's drums, is fascinating.
#108 Nostalgic and Profound Timbre Transcending Flux of Time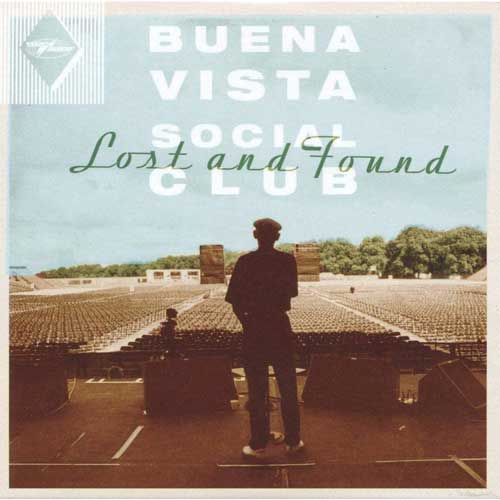 I think I can say "Buena Vista Social Club," the movie directed by Wim Wenders in 1997, is the unforgettable masterpiece, which made the attractiveness of Cuban music widely known around the globe. It brought Cuban musicians in good old days back to the front line again, and introduced them to the world. People all over the world exhibited deep impression to their profound sound.
It's been 20 years since then. The numbers recorded in the session at "Buena Vista Social Club" but shelved were gathered together with the members' later performances, and released as an album in 2015. The sound source at the world tour of Ibrahim Ferrer, who had already passed away, and Ruben Gonzalez who played the piano are included. Moreover, from the original session, <Macusa> by Compay Segundo and others, as well as the superb <Lagrimas Negras> by Omara Portuondo are included. Every number is profound and gorgeous making us feel the tradition of Cuban music. You can literally immerse yourself in a nostalgic feeling transcending the passage of time.
#109 MOZART y MAMBO! Amusingly Unusual Combination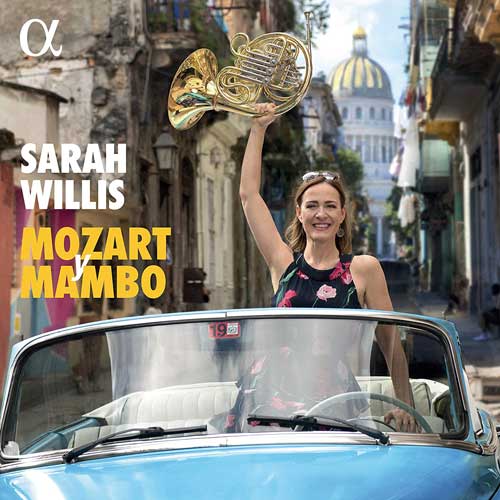 Sala Willis is an active horn player for a long time in the Berlin Philharmonic, the best orchestra in the classical music world both in name and reality. This album was made together with Cuban musicians when she visited Cuba, which was recorded at the beginning of this year (2020) in Havana. The music written for horn by Mozart and Mambo are recorded alternately, and this unique combination utterly amuses us.
The project started in 2017 when she visited Cuba for the first time. She realized that the classical music culture had been rooted in this country, and deepened the friendship. At the same time, fascinated by Cuban music, she challenged to arrange Mozart's music for horn and <Eine kleine Nachtmusik> to Mambo. Perez Prado's masterpiece, <Que Rico El Mambo> was performed by 14 horn players accompanied by the Havana Lyceum Orchestra or the Rhythm Combo formed by young Cuban musicians. It was the unprecedented project that even <El Manisero> was played on the horn. I feel the joy of music transcending genres by listening to Mozart's melody and Mambo easily combined.