Although I am not deeply involved in Catholicism, I somewhat feel solemn and refreshed when I listen to Christmas music. It is probably because I remember spontaneously at this time of the year my personal experience of hearing Christmas music or singing melodies of hymns together with local folks in winter since I was little. There are a number of albums I occasionally take from the CD rack and play in December. I have picked out my favorite albums which are somewhat different from Christmas masterpieces or standards by Frank Sinatra or Nat King Cole, or more recently by Diana Krall or Michael Bublé.
#74 Rustic Christmas Album Transcending Time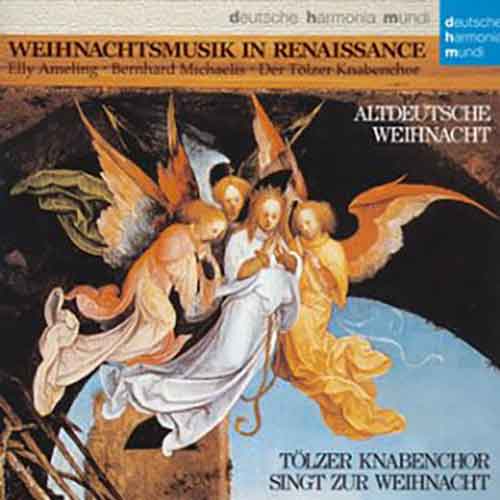 The album contains earthy melodies created in 16th and 17th centuries which have been sung continuously among people. People in rural areas in Germany rarely sing <White Christmas> or <Jingle Bells>. Rather than decorating glittering and gorgeous Christmas trees, heartwarming Christmas season comes with lighting candles. Only classic pieces and hymns such as <Ubers Gebirg Maria geht> by Johannes Eccard, and <In dulci jubilo>, <A solis ortus cardine>, and <Es ist ein Ros entsprungen> by Michael Praetorius are sung or played in front of a small ensemble of Lute, Blockflöte, Viola da gamba, and so forth. Starting with the singing voice of soprano, Elly Amering, everything is refreshing and heartwarming.
The album was recorded by German Harmonia Mundi in 1961, and I recalled it was around Christmas of 1974 when the LP was released in Japan. I bought the album back then, and I have made it a rule to listen to it during Christmas every year. The CD released in Japan in 2004 was a double album, and was coupled with Harmonia Mundi's another Christmas piece, "Der tolzer knabenchor singt zur weihnacht." Since it is still on the Japanese domestic catalog, I believe it is available.
#75 Classic Masterpiece by Elvis Aron Presley
There are several Christmas albums of Elvis Presley, the king of rock, and the first "Elvis' Christmas Album" and "If Every Day Was Like Christmas" were both best-sellers. However, I would like to select a gospel album which should be called "hymnal," something different from Christmas albums. While swinging his body hard and continuously releasing rock' n' roll hits, Elvis has familiarized himself with devotional church music since his childhood, and has had deep empathy and affection to it.
In '57 when he enjoyed his hits of <Hound Dog> and <Jailhouse Rock>, he recorded 4 numbers including <Peace in the Valley> and <Take My Hand, Precious>. The album released as EP (extended play) disc became a hot topic of conversation showing the root of Elvis. "His Hand in Mine by Elvis" is the first sacred LP album recorded in the autumn of '60. Furthermore, he released more sacred albums, "How Great Thou Art" in '67, and "He Touched Me" in '71, and at the same time, he was singing spiritual numbers on stage. I feel happy that The Jardanaires are providing background vocals as they did for rock' n' roll hits. We can see the other side of Elvis Presley who is inextricably linked to a rock' n' roller. I am pleased to note that the album contains masterpieces only such as <His Hand In Mine> and <He Knows Just What I Need>, and the aforementioned 4 tracks recorded in '57 are added to the original 12 tracks.
#76 Intoxicated with Gorgeous Timbre of A Cappella And Full Orchestra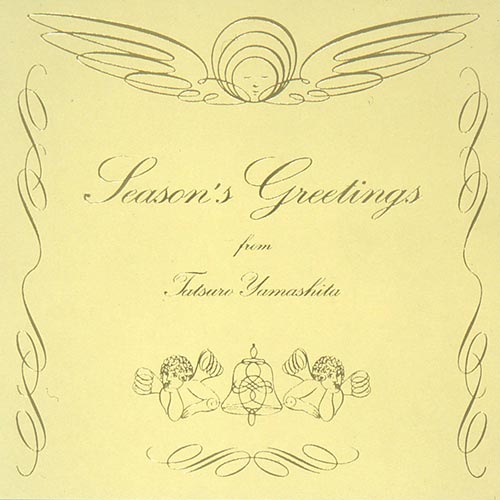 Even though the album of Tatsuro Yamashita, a pop singer representing Japan, contains tracks other than Christmas songs, this is another standard album I always pull out this time of the year. 9 out of 15 tracks in the original disc released in 1993 are a cappella, and Tatsuro Yamashita is performing all the roles alone from the main vocal to the back chorus utilizing multi recording function. Since Christmas songs are originally sung in church choirs often, I could say that I am mystified feeling somewhat devotional by just listening to the timbre of such harmony in chorus.
His magic of harmony is perfect, and I should say that I feel the high quality of his musicality. I enjoy the luxury of listening to <Silent Night> and <White Christmas> a cappella alone, and 5 tracks are gorgeous featuring singing to the accompaniment of a full-scale orchestra including the strings. A cappella version of <Bella Notte> sung in the movie, "Lady and the Tramp," is included. <Be My Love>, which was a hit thanks to Mario Lanza's records, and <SMOKE GETS IN YOUR EYES>, The Platters' mega hit, are sung relaxingly accompanied by the orchestra. Furthermore, it contains a wide variety of songs including the special English version of <Christmas Eve>, Tatsuro Yamashita's original song. On top of that, this 20th Anniversary Edition has additional 7 bonus tracks.
#77 Pop and Country-style Christmas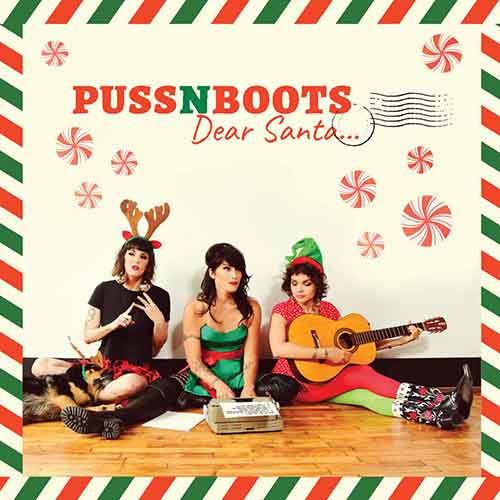 One of the latest albums of this year (2019) is Christmas mini-album containing 5 tracks of Puss n Boots, a girls' band by Norah Jones, Sasha Dobson, and Catherine Popper. The activities of Puss n Boots, a three-piece girls based, whose concept is the modern country music, have been continuing over 10 years.
4 out of 5 tracks are originals written by members. The acoustic voice and sound seem very happy and warm. <Silent Night> sung with the pop beat brings out the exiting feeling.