The new year started and Heisei Era (Current Japanese Emperor's Era) is coming to an end after a few months from now. Looking back the era and thinking about the Japanese Jazz community, I can never forget the great performances by young musicians who came on stage like a comet. Many of them are female performers! So many wonderful female musicians came under the spotlight may be something to be specially noted in the history of Heisei jazz. I'd like to cast a spotlight on three "princesses of jazz" born in Heisei Era, who continue their performances at the forefront of the jazz world today. Eventually, the era of Heisei may seem to be a long time ago, but no matter what, I believe these albums will be memorized as the certain footprints of their activities. What I introduce here is only a milestone for them, and it is certainly true that we cannot take our eyes off their great performances in the new era.
#34 Self-confident Work of Pianist Representing New Generation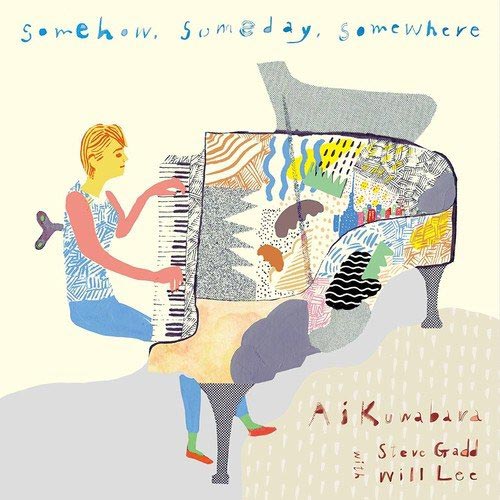 Ai Kuwabara, the spirited pianist running the center of today's jazz world at full speed with the supple sensibility and the touch of abundant imagination. Her musicality describing the world with the sense of scale by freely elaborating the musical motif seems to be growing piece by piece. "Somehow, Someday, Somewhere" recorded in 2017 together with the super first-class veteran musicians, Will Lee (Bass) and Steve Gadd (drums), showcases her pianistic characteristics extensively. Having such a great stars backing her up, she fully demonstrated her ability, which proved her brilliance.
She started her piano in full swing since the middle of the year 2000 after she won a first prize in the National Yamaha Electone Concours (YEC) (the National Yamaha Electronic Organ Competition), and made her debut with her album, "From here to there," in 2012. There are a number of original pieces such as <Somehow It's Been a Rough Day>, from which we can feel the exponential developments of her sensibility. In addition, there are romantic developments of masterpieces such as <Home> by Michel Petrucciani and <B Minor Waltz> by Bill Evans. We can feel the abundant individuality of a pianist suitable for representing the new generation from every piece.
#35 New Piece by Erena Showing Dignified Presence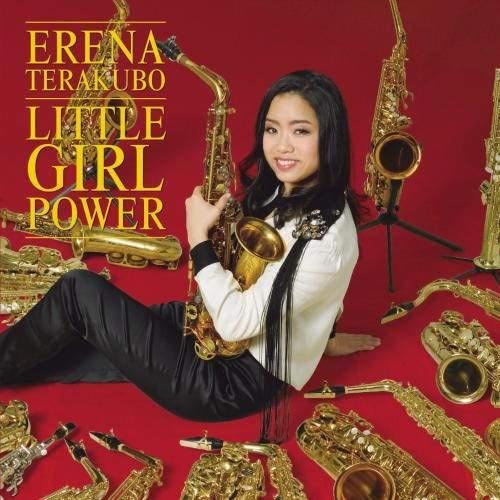 Erena Kerakubo drawing a lot of attention in the past several years is one of the young talented alto sax players. Born in Hokkaido, she's been performing together with the top-class musicians since she was in high school. At the age of 18, she made her debut with "NORTH BIRD" taking the first-class rhythm section in the United States. After having studied at Berklee, she is currently based in New York. "LITTLE GIRL POWER" performed by her quartet, which plays the central part of her activities when she comes back to Japan, was recorded in 2018. A large number of performances are embodying the traditional bebop, the basic language of jazz. She plays <MARMADUKE> by Charlie Parker, <BIRD LIVES> by Jackie McLean, some funky pieces also played by Parker such as <LOVER MAN>, Horace Silver / JUICY LUCY, and Cannonball Adderley / INTRODUCTION TO A SAMBA, and she mixes her originals. She seemed relaxed and comfortable.
She said she wrote the title tune, <LITTLE GIRL POWER>, wishing "girls to be more self-confident, to be given more freedom, and to shine." The album contains her enthusiasm not only as a leader but also as a composer. Erena's own musical individuality has been expressed as an entire band, and we can clearly feel her growth and the presence as a leader
#36 Debut Piece Full of Vibrancy by Spirited Drummer
When I saw Senri Kawaguchi's You Tube video for the first time, I was amazed. Not only the stunning technique but also her music itself is vibrant and shining. According to the data, the video drew attention from all over the world and has been replayed more than 50 million times. At that time I think she was only 14 or 15 years old. Born in 1997 (Heisei 9), she already started her live performance in Los Angeles. At "Tokyo JAZZ" in 2017, she came up on the main stage as a trio together with Philippe Saisse. In Blue Note All-Stars with eminent members gather together, she let the orchestra groove by taking the central role of the band.
"Cider" is the first leader album from a major label in Japan recorded in 2016. Philippe Saisse served as the producer as was expected, and we can enjoy the essence of drumming by "the drumming princess" showing herself at her best in the simple arrangement. It is powerful and dynamic! We don't know how far she will still grow. The album will be the one memorized as the masterpiece of Senri Kawaguchi in Heisei Era with infinite potential. "TRIANGLE LIVE," the live image DVD version of the trio together with Saisse has also been released, and you can see her fantastic technique with your own eyes.