Taking the opportunity of Audio Note's headquarters relocation in January 2023, I visited the newly designed listening room there. The new listening room, designed by Nihon Onkyo Engineering Co., Ltd. is slightly larger than the previous one and has a space of about 40m2 . Taking time to make careful adjustments, the listening room was officially opened this March. A lot of time was spent on tuning so that the music would sound vividly with the policy that listening should be done not only for product development, but also for pleasure. The sound, which was initially a little bit stiff, became better able to express the ups and downs of emotions through elaborate adjustments. It is often said that dead sound is preferable in manufacturers' listening rooms, but in this room, the music echoes comfortably even though it is a little dead. I brought along some music software and started listening with three classical albums. All three albums left a strong impression as the music came out vividly from the speakers and spread throughout the room in a full and lively way.
#214 SACD Disc that Well Conveys Mutter's Deep Thoughts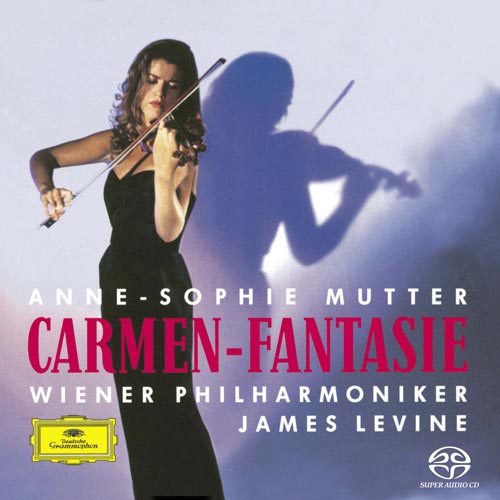 The first disc played was a collection of violin masterpieces recorded by Anne-Sophie Mutter in 1992. It is a popular disc that has been widely loved, but this time I listened to the SACD version by Deutsche Grammophon, remastered in 2005. Listening to the first track, <Zigeunerweisen,> I felt Mutter's lustrous violin sounded even more elegant. The elegant sound of the Wiener Philharmoniker was also exquisite, and the balance was very good. The bass parts, which formed the foundation of music, sounded firm, and the velvety harmonies of the string section were a real delight.
The reverberation was 0.2 seconds, which was a little dead, but I felt the whole room like a small concert hall, and enjoyed the rich and deep sounds. Even the most popular melodies were as if they had been given new life in the hands of a virtuoso like Mutter. Feeling the depth of Mutter's thoughts, I was able to fully immerse myself in the excitement of music. This album is now also available in SHM-CD format, but the SACD version, with its greater amount of information, seems to have an exceptional appeal.
#215 Tchaikovsky's Masterpiece Colored with Deep Melancholy
Tchaikovsky composed six numbered symphonies during his lifetime. The sixth of these, Symphony No.6 in B-minor "Pathétique", is the most famous, while Symphony No.4 and Symphony No.5 are also widely known and often performed as masterpieces. In addition to them, this "Manfred Symphony" is known as a symphony that does not have a number. The reason it is not numbered is that the composer himself was not satisfied with the work and thought he might eventually discard it. However, for me this piece is truly a masterpiece of Tchaikovsky. Ever since I got a record of the London Symphony Orchestra's performance of it, conducted by Igor Markevitch when I was a student, I have considered this symphony to be one of Tchaikovsky's representative works, and have listened to several other CDs of the piece.
It was composed inspired by an English poet, Byron's "Manfred," and dramatically depicts a story of Manfred, who has lost the love of his life, wanders in the Alps and tries to forget everything by turning to witchcraft... The symphony, throughout which beautiful melancholy melodies are scattered, was composed between the 4th and 5th symphonies, and its deep melancholy is exceptional, as is typical of Tchaikovsky. Zdeněk Mácal, who was once the principal conductor of the Czech Philharmonic, recorded all the symphonies from No.1 to No.6 in the mid-2000s, and in 2010, after completing the series, he recorded the Manfred Symphony as an "extra" work, so to speak. The way he expresses the beauty and depth of this symphony in a straightforward manner shows the maturity of Mácal, who was then in his mid-70s. Also noteworthy are the beautiful sounds created by the orchestra's strings, which are captured as they are in the outstanding recording. As specifically described as High Quality SACD, the sound is supremely beautiful.
#216 Stoltzman's Profound Interpretations as if He Gazes into Flow of Time
The third one is "Last Solo Album-From My Life" released in 2022. For this album, Richard Stoltzman, a world-famous clarinet virtuoso of our time, performed in a duo with his wife, Mika Stoltzman. Richard Stoltzman is active in a wide range of fields, from classical music to jazz and contemporary music. While remaining true to the authentic classical music, he performs a diverse repertoire with freedom. Mika is a marimba player who also has been active in a wide range of genres, and every corner of the album is filled with the contemporary senses of the two.
As soon as I listened to the first track, Ennio Morricone's New Cinema Paradise Title~Love Theme, I was enchanted by the lustrous clarinet tones. The textures of the woodwind instrument's sound were well reproduced, and I realized that thorough pursuit of good audio quality could bring such a pure sound. In terms of the texture of wood, the same can be said about the realistic sound of the marimba, a percussion instrument. Beatles' <Michelle,> arranged into a duo piece by Miho Hazama, makes you wonder if this is it at the beginning, but familiar melodies gradually emerge. It's interesting to see the development of imagination that makes one want to call it "Michelle Fantasy." From Bach and Brahms to contemporary pieces by Elliott Carter, John Zorn and others, the duo's pure sound without the frills is pleasing to the ear. Richard Stoltzman, who turned 80 last year, left a lasting impression on me with his free yet profound expressions, as if he was looking fondly at the passage of time and life.