Virtuosos give off a dazzling brilliance. I believe that is generated from the passion and romance that musicians have. I have selected albums with such an aura of gushing enthusiasm and romance.
#90 Feeling du Pre's Enthusiasm throughout Your Body
This is the cello concerto written by the British composer, Edward Elgar, in 1919. It is recognized as one of the best cello masterpieces today, however, that reputation is mainly due to the excellent performance of Jacqueline du Pre, the genius said to "have been born with a cello." She recorded her performance conducted by John Barbirolli for EMI in 1965 when she was 20, and the recorded performance still impresses many people as the final version.
Two years later, her live performance, which was even superior to the previous recording, was discovered at the beginning of 2000s, and I have listened to the version re-released recently from King International after it was released from BBC/Testament. The performance is also with Barbirolli. From the beginning of the cello part in the first movement, you can feel du Pre's enthusiasm all over your body. She is playing the lyrical melody with a flood of emotions. Every part is filled with gentle melodies. Rather than thinking of her repertoire, I am truly delighted that Elgar's Cello Concerto encountered the unrivaled cellist, du Pre. This is a jewel-like piece Jacqueline du Pre left for us since she started suffering from the intractable disease several years later and could no longer continue her activities.
#91 Martin's Bolero Album Mixed with Latin Sorrow and Flamenco Singer's Passion
I was strongly attracted by the singing voice and androgynous appearance of Mayte Martin—born in Barcelona and famous as a flamenco singer—when I listened to the album, "Free Boleros" (K-Industria cultural S.L.), where she is singing with the backing of Tete Montoliu Trio—Montoliu is the pianist from her hometown, Barcelona. The fact that the album recorded in 1996 was his first bolero work was something I found out later. Her bolero album in 2002 was "Tiempo de Amar" and it shows Martin's charm very well in her own way as the first-class bolero singer.
Bolero has its root in Spain and is penetrated through Mexico to Latin America and becomes popular. Mayte Martin is singing the classical pieces passionately such as <Obsession> by Pedro Flores, the famous composer from Puerto Rico, <Veinte anos>, also sung at Buena Vista Social Club and <Toda una vida>. I was fascinated with her voice mixed with the Latin sorrow, the flamenco singer's passion, and the gloomy pathos.
#92 Petrucciani's Unreleased Sound Source with Enduring Romance and Passionate Poetic Sentiment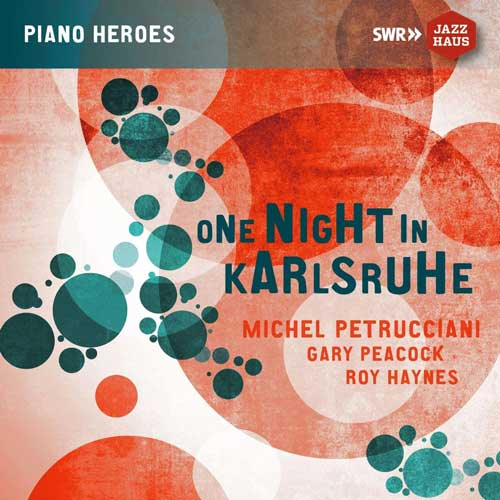 While Jacqueline Du Pre was said to "have been born with a cello," Michel Petrucciani (1962-1999) was called "the personification of piano." Although the genres of music they play are different, their passions for music stay the same. They are both expressing their enduring romance and passionate poetic sentiment. I was once again greatly impressed by listening to Petrucciani's unreleased sound source discovered last year keeping the music gushing out without stopping like a spring.
This is the performance recorded at the culture center in Karlsruhe, a town located in the southwest part of Germany, when Petrucciani Trio had the European tour in the summer of 1988. Since the album, "Michel Plays Petrucciani," was released a little while ago, some of the numbers in repertoires are overlapping. However, the duration of each tune is long because it is a live show, and her fascinating phrases in the groovy music seem endless. The performance of her standard numbers, which are played between those originals, are also indescribable. In <In a Sentimental Mood> melodies are generated infinitely from the casual theme. <My Funny Valentine> makes us feel her zeal in the lyrical beauty. Every performance in this album is sure to overwhelm us by the richness of Petrucciani's music.
#93 Live Performance of Johnny Griffin, Talented Hard Bop Tenor
In 1960s, many top jazzmen active in America went to Europe seeking new grounds for their activities. I assume there was racism and it must have been difficult for them to earn their living just by performing genuine jazz music in America back then. Therefore, they said good-bye to their country, played jazz as they wanted, and they were warmly welcomed in Europe at that time.
It was 1963 when Johnny Griffin, the major player of the hard bop, went to Europe, and a few years later in 1967, this album was recorded his performance at the well-known club in Copenhagen, Café Montmartre. This is the complete version on which the unreleased <Masquerade Is Over> was added to the three LPs or the two CDs. The burning hot up-tempo <Wee> and <Rhythm-A-Ning> are formidable. <You Leave Me Breathless> and <Old Folks> are lyrical ballade performances. Finally, with his forte number, <Hush a Bye>, you can fully enjoy the allure of the talented modern tenor, Griffin.